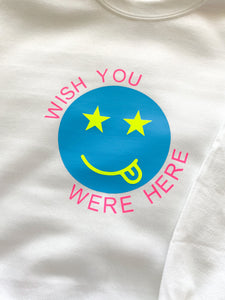 Introducing our "Wish You Were Here" Sweatshirt, a must-have item that has taken TikTok and Pinterest by storm. T

Crafted from high-quality fabric, this sweatshirt offers both comfort and style. The oversized fit provides a relaxed and laid-back look, making it perfect for lounging or creating fashionable streetwear outfits. We recommend sizing up for an even more oversized and on-trend fit.

The "Wish You Were Here" neon design adds a vibrant and eye-catching element to the sweatshirt. It captures the attention of onlookers and exudes a cool and playful vibe. Whether you're expressing a longing for adventure or simply embracing the carefree spirit, this design is sure to make a statement.

Pair it with your favorite sweats, leggings, or joggers for a comfortable and fashionable look. Dress it up with accessories or layer it under a jacket for added versatility. Let this sweatshirt be a staple in your wardrobe and showcase your unique sense of style.

Join the viral sensation and make a statement with our "Wish You Were Here" Sweatshirt. Get ready to turn heads and attract attention wherever you go with its trendy oversized fit and captivating neon design.