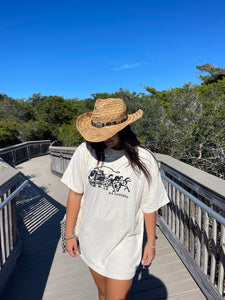 A stylish and versatile piece that combines western aesthetics with a modern twist. The tee features black text on an ivory background, creating a striking contrast and adding a touch of nostalgia to your wardrobe.

Crafted from high-quality fabric, this tee offers both comfort and style. The ivory color provides a neutral backdrop, allowing the black text to stand out and make a statement. The tee is designed to be worn slightly oversized, so we recommend sizing up for a relaxed and on-trend look.

The Western-themed graphic adds a rustic and adventurous feel to the tee. It captures the essence of the Wild West, drawing inspiration from cowboy culture, rodeos, or desert landscapes. The text creates a vintage aesthetic, paying homage to the timeless charm of the Western era.

This Ivory Western-themed Graphic Tee is a versatile addition to your wardrobe. Pair it with your favorite sweats, shorts, or skirts for a casual yet fashionable look. Dress it up with a blazer or layer it under a denim jacket for a more elevated ensemble.

Whether you're exploring the urban landscape or embracing your inner cowgirl, our Ivory Western-themed Graphic Tee will be your go-to choice. Step into the world of the Wild West with this stylish and comfortable tee that effortlessly combines nostalgia with contemporary fashion.