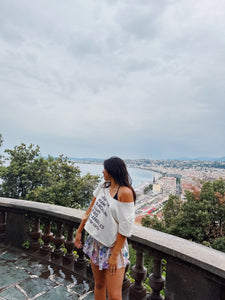 Introducing our alluring Ivory Off-Shoulder Cropped Tee, designed to elevate your fashion ensemble with a touch of wanderlust. This trendy cropped tee features an off-shoulder style, a beautiful ivory color, and a captivating list of city names on the front, making it a must-have addition to your wardrobe.
Key Features:
Off-Shoulder Elegance: The off-shoulder design of this tee adds a touch of femininity and allure to your outfit, making it a stylish choice for various occasions.
Ivory Chic: The soft and delicate ivory color exudes elegance and versatility, making it easy to pair with different bottoms, accessories, and styles.
City Names Adornment: The front of the tee is adorned with a carefully curated list of city names, representing iconic destinations from around the world. It allows you to carry a piece of global wanderlust wherever you go.
Cropped Length: The tee is designed with a cropped length, adding a trendy and youthful vibe to your look. It pairs perfectly with high-waisted jeans, skirts, or shorts, creating a flattering silhouette.
Comfortable Fit: Crafted from high-quality materials, this tee offers a comfortable and relaxed fit, allowing for freedom of movement throughout the day.
Breathable Fabric: The fabric used in this tee is lightweight and breathable, ensuring optimal comfort even in warm weather. Stay cool and stylish wherever your adventures take you.
Versatile Styling: This ivory off-shoulder cropped tee can be effortlessly styled for various occasions. Dress it up with a statement necklace and heels for a night out or go for a casual chic look with sneakers and a denim jacket.