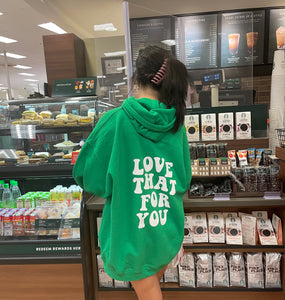 A vibrant and stylish addition to your wardrobe. This hoodie features a bold and eye-catching design that says "Love That For You," encapsulating a spirit of positivity, support, and empowerment.

Crafted with care, our hoodie is made from high-quality kelly green fabric, providing both comfort and style. The "Love That For You" quote serves as a daily reminder to embrace and celebrate the accomplishments, successes, and uniqueness of others.

The kelly green color adds a refreshing pop of color to your wardrobe, making a statement wherever you go. Pair it with your favorite jeans or leggings for a casual and effortlessly cool look that exudes positivity and confidence.

Spread love, embrace positivity, and rock our Kelly Green Graphic Hoodie. It's not just a hoodie; it's a symbol of support, encouragement, and celebration of others. Get ready to make a statement and inspire others with your fashion choices and uplifting spirit.