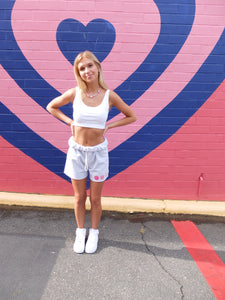 The perfect addition to your loungewear collection. These stylish and comfortable sweatshorts feature a captivating design of pink ombre smiley faces on a neutral ash grey background.

Crafted from high-quality fabric, these sweatshorts offer a soft and cozy feel against your skin. The relaxed fit and adjustable drawstring waist ensure a comfortable and customizable fit. Whether you're relaxing at home or heading out for a casual outing, these sweatshorts provide the perfect combination of comfort and style.

The pink ombre smiley faces add a playful and energetic touch to the sweatshorts. With their gradual transition of shades, they create a visually stunning effect that is sure to catch attention and spread positivity. These smiley faces perfectly complement the ash grey backdrop, resulting in a trendy and eye-catching design.

To complete the look, pair these Pink Ombre Sweatshorts with our matching Crewneck. The coordinating design creates a cohesive and fashionable outfit, perfect for those who want to showcase their unique style. Mix and match with other wardrobe staples or wear them as a set for a trendy and coordinated look.

Whether you're lounging at home, running errands, or meeting friends, our Pink Ombre Sweatshorts with Pink Ombre Smiley Faces offer the perfect blend of comfort and style. Upgrade your loungewear game and express your playful personality with this delightful and trendy ensemble.